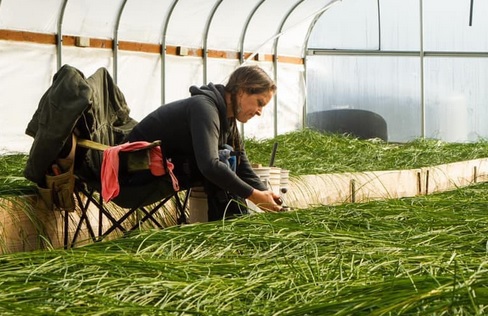 By Oregon Family Farm Association,
A former skateboarder descended from Cherokee and Grand Ronde grandmothers grows the world's most expensive spice in a community northwest of Portland.
Tanya Golden of North Plains set up Golden Tradition Saffron in 2018 two 30-foot-by-95-foot greenhouses on her parents' property, according to The Oregonian/OregonLive. She obtained grants from the Native American Youth Association Microenterprise Program and the US Department of Agriculture. She also took out a loan, which she has since paid off with proceeds from the harvest of the yellow spice, known as red gold because of its high cost per ounce.
According to the article, the spice sells for more than $5,000 a pound. That's because the spice is not easy to harvest. Although the saffron plant, called crocus sativus, is fairly cheap, during the harvest, workers have 20 days to painstakingly hand-pluck each saffron orange-red stigma, or thread, from her 400,000 plants and dry them.
People use saffron in cooking, ciders (such as Saffron Solstice cider produced by Finnriver Cider of Washington, Golden's largest customer), fragrances, dyes, and medicinal teas to treat anxiety and depression.
Golden told a reporter she hopes to expand into southern Oregon to employ more people in harvesting the threads.