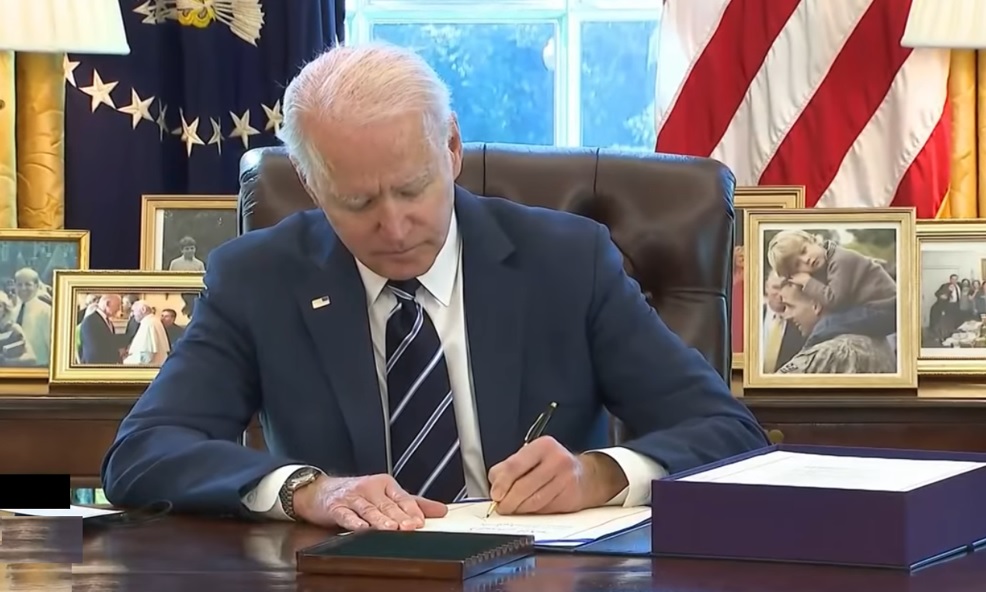 By Healthy Forests, Healthy Communities
On Earth Day, President Joe Biden signed an Executive Order recognizing the role that federal forests play "in combating climate change and the importance of maintaining their resilience." In their news coverage, the media largely focused on provisions aimed at "protecting old growth forests."
As we reported in last month's newsletter, anti-forestry groups have pressured the Biden Administration to ban logging on National Forest System lands under the guise of protecting "old and mature forests" even though there are no universally or scientifically-accepted definitions of what "old" or "mature" trees are.
What does President Biden's Executive Order do, and what are potential concerns?
First, it's important to note that Executive Orders don't carry the force of law, like an Act of Congress would. Just like President Donald Trump's 2019 Executive Order promoting active management of America's forests, they serve as statements of Administration priorities, and also serve as directives to federal officials or agencies to engage in a particular course of action. Many Executive Orders are often swept aside or reversed when a new president takes office.
President Biden's Executive Order does not ban timber harvesting, and it does not identify logging as a threat to old and mature trees.
Rather, it identifies "climate impacts, catastrophic wildfires, insect infestation, and disease" as the primary threats to all forests, including older forests. It also takes aim at illegal logging and deforestation in other countries and seeks to limit the trade of illegally sourced wood products.
Much of the Executive Order represents a reasonable effort to protect forests at home and abroad from the impacts of climate change. However, it may also undermine that effort by adding more bureaucracy and red tape on federal agencies that are already struggling to 1) implement forest health projects including those aimed at protecting old and large trees; and 2) hire more land managers and firefighters to carry out the work.
Specifically, the Executive Order directs the Forest Service and Department of the Interior to "define, identify, and complete an inventory of old-growth and mature forests on Federal lands, accounting for regional and ecological variations, as appropriate."
The inventory must be completed within one-year and be made available to the public. The end result would be to "institutionalize climate-smart management and conservation strategies that address threats to mature and old-growth forests on Federal lands."
Inventorying these forests is an incredibly difficult task, considering old and mature trees can vary based on geography, forest types, tree species and other factors. The inventory will require a significant amount of time and resources at a time when the Administration is simultaneously spending billions of dollars as part of its strategy to double the rate of forest health treatments on federal lands.
The process of "institutionalizing" management and conservation strategies will also require more time and resources. And it may result in new regulations that make forest management even more challenging on federal lands.
It's also worth noting every National Forest has a Forest Plan which must "provide for key characteristics associated with terrestrial and aquatic ecosystem types" including "old growth."
The 2012 Planning rule, adopted during the Obama Administration, sought to address "old growth" issues through the locally developed Forest Plan because "these issues are best identified and determined at the forest or grassland level, reflecting ecosystems and plant and animal communities on the unit." The Biden Administration should be careful to avoid taking a political, top-down approach that would ignore the Obama Administration's own planning.
We know that climate impacts, catastrophic wildfires, insect infestation, and disease are directly threatening our forests- young and old alike. We have the science, policy tools and modern forest management practices to improve the health of our forests while producing more domestic wood products that store carbon and require less energy to produce compared to other building materials.
While President Biden's Executive Order is well-intended, our forests and communities would be better served by addressing the real obstacles to active forest management, namely the cost and time it takes for agencies to develop and implement forest projects, and the real and perceived threat of anti-forestry lawsuits that keep our federal agencies from caring for the land.