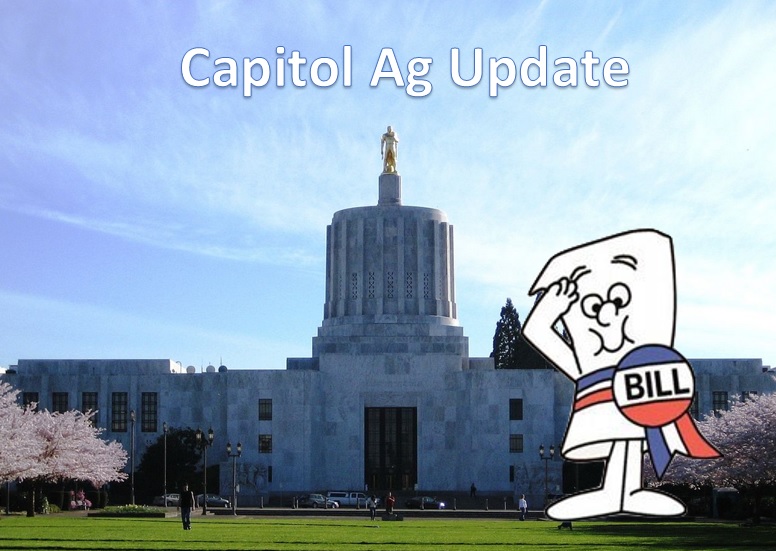 By Oregonians for Food and Shelter,
Last week was a busy one in the Capitol for OFS. On the Senate side, the Senate Committee on Natural Resources held a hearing on SB 530, a bill that seeks to increase carbon sequestration on "natural and working lands" but lacks an appreciation for the existing contributions from natural resource industries. OFS is part of a larger coalition opposing this bill for a variety of reasons.
We've also been working on bills with hearings this week in the House Agriculture, Natural Resources, Land Use and Water Committee. One bill seeks to address the issue of Harmful Algal Blooms (HB 2647) but misses the complexity of the issue, the ongoing work at the state and federal levels, and the need for broad expertise and collaboration across agencies and stakeholders. Another bill proposes a new statewide "soil health initiative" (HB 2998) that appears disconnected from successful soil management approaches and ongoing services in the state, with a high administrative price tag. The OFS team met directly with committee members this week and shared our perspective on these concepts.
OFS's Tiffany Monroe led testimony on both bills, standing strong for our forestry and ag members and partners by providing constructive feedback to a challenging audience, as much of the committee appears largely supportive of each bill in its current form. We will be working proactively with stakeholders and policy makers in suggesting improvements to HB 2998 and hope they'll take our concerns into consideration.
We are now turning our focus to bills set for hearings next week. We've met with several legislators and education system advocates to discuss our concerns with SB 426, which seeks to shift responsibility for school Integrated Pest Management programming from experts at Oregon State University to the Oregon Department of Education (ODE). Aside from concerns about ODE lacking the pest management expertise to support schools in decision-making on managing pests, the Department and school districts would bear additional costs to accommodate this unnecessary programmatic shift. The Senate Education Committee will hold a public hearing on SB 426 next Tuesday afternoon and OFS will be there to flag our concerns with this bill.