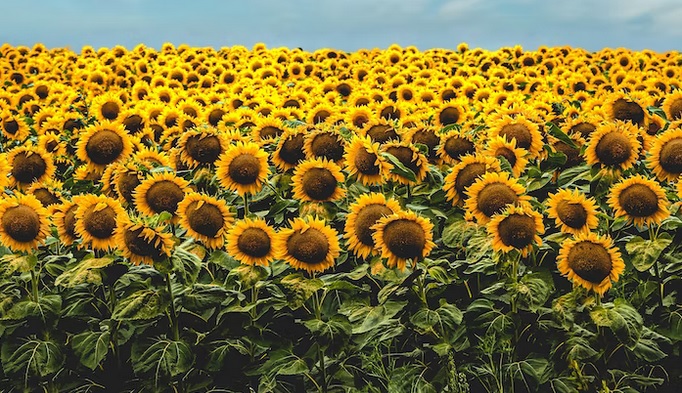 By Ching Lee
Despite continuing war between Russia and Ukraine, major seed companies are not turning their backs on farmers in the two nations.
Ukrainian growers may still face considerable difficulty amid the conflict, but both countries remain destinations for California-grown seeds.
That means California farmers can expect to produce contract seed for the Black Sea region, including sunflowers, which remain a major crop in Russia and Ukraine. With more rainfall this winter, California sunflower acreage is expected to rise.
Nearly all sunflowers grown commercially in California are harvested as certified planting seed used by other farmers who grow the crop. Sunflowers grown elsewhere are most often used to make cooking oil by crushing the seeds.
California farmers planted 33,500 acres of sunflowers last year, a 27% decline from 2021, according to the U.S. Department of Agriculture. The plantings represent the lowest on record going back to 2009. Yields dropped about 18% last year compared to 2021. Farmers also left some 500 acres unharvested.
The state's multiyear drought takes much of the blame for the reduced plantings, as farmers faced severe water cutbacks. Having to prioritize their limited supplies, they chose to water higher-value crops such as tree nuts, fruit, winegrapes and processing tomatoes.
Though sunflowers were still profitable, "it's probably more like middle of the pack," said Garrett Driver, a Yolo County farmer who works as supply chain manager for Nuseed, a global seed company that sells sunflower seeds worldwide.
In addition to the reduced acreage last year, Driver said he thinks some fields that didn't get enough water were abandoned early, as seed companies did not want to take a meager crop to harvest, especially with the higher cost of production.
Despite its drought-related chronic water problems, California remains an attractive location for certified seed production, especially sunflowers, Driver said. The Golden State's "very favorable weather" lends to seed crops with low disease pressure, which means better yields. Being free of disease also allows companies to ship their seeds anywhere in the world, he added.
This time of year, seed companies are finalizing their planting contracts with farmers who will grow their seeds. Driver said he expects most of the sunflower acreage will be decided in the next week or two. He said he thinks state acreage could increase by 10% to make up for less production last year and the shorter inventory coming into this season.
Colusa County farmer Mitchell Yerxa said he's growing more sunflowers this year because seed companies are offering more money. That was not the case last year, he noted, despite the rise in cost of water, labor, fertilizer and other inputs that farmers had to bear.
Even though sunflowers require less water and fertilizer to grow, he said, the base price offered last year was not as attractive as other contracted crops such as vine seed and processing tomatoes.
"A lot of times what gets planted is based on what price they're offering," Yerxa said. "What's nice about California is we have such a specialty niche of what we can grow. We know we can hold out for a higher price."
A big factor influencing contract price is the overall commodity market, Driver said. Right now, wheat, rice, and forage and feed crops are all fetching higher prices. Tomatoes and vine seed also remain lucrative options for farmers.
With all these crops competing for ground, seed companies are now willing to pay more for sunflower contracts, so they can secure the acreage they need, said Sutter County farmer David Richter. Like Yerxa, he is increasing his sunflower acreage this year.
Where he farms in the Sutter Basin, Richter said he can usually irrigate the ground before planting and skip irrigations on the crop during the growing season because sunflowers don't require much water. This year, "the rain gives us all of our moisture," he said. This will allow him to use his water allocation on other crops such as rice and tomatoes.
"It's been a profitable crop for us," Richter said of sunflowers.
Although California farmers produce certified sunflower seed for growers worldwide, Ukraine and Russia have been the biggest markets. Ukraine is normally the world's top producer of sunflowers, but because of challenges from the war, it dropped to second place behind Russia last year, according to USDA. Together, Russia and Ukraine accounted for 53% of total world production in 2022.
When the Russia-Ukraine war broke out around this time last year, companies that produce certified sunflower seed were uncertain about the future of their largest buyers, Driver said. Though seeds were still being sold, he said, a lot of seed companies pulled back production.
This year, they are looking to fill their shelves and to keep seed supplies flowing to farmers globally, especially to regions that have increased sunflower acreage, including the U.S., Canada, South America and Western Europe, Driver said.
U.S. farmers planted 1.69 million acres of sunflowers last year, a 31% increase from 2021, USDA reported.
Companies also continue to supply seeds to Russia and Ukraine. Sunflower production in Russia rose 2.7% last year, while Ukraine's production plunged more than 40%, according to USDA. Driver said even with the war continuing to upset the sunflower market, "there has been a little bit of a reset right now seeing what all Ukraine's been able to do."
"They've quite remarkably been able to fight and still farm some of their acres, which is impressive," he said.
As for Russia, Driver said he thinks each seed company is handling that market differently. Corteva, for example, last year said it was stopping its business activities in Russia. Driver said the company may be supplying seed to Russia through a distributor. He noted all major seed companies that produce sunflowers have been working to get product from ports to farmers' fields.
"Ultimately, companies will find a way to get to the market, even in Ukraine," he said. "At the end of the day, everyone's got to eat, and from a humanitarian perspective, you're trying to keep people fed and food on the table."
Being able to supply seed to even conflict regions of the world helps to stabilize markets, Driver said, which is key to long-term development and for creating "more sane geopolitical decision making, because you don't have feast and famine around the world agitating people to want to go to war or create more conflict."
(Ching Lee is an assistant editor of Ag Alert. She may be contacted at [email protected].)
Permission for use is granted. However, credit must be made to the California Farm Bureau Federation