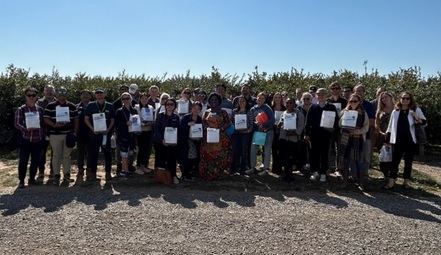 By Oregon Department of Agriculture,
Press Release
For more than 35 years, USDA's Foreign Agricultural Service has been hosting orientation visits for foreign attachés based in Washington, to provide firsthand knowledge of the excellence and diversity of American agriculture. For this year's tour, 28 attachés from 22 countries spent the week of Sept. 17-23 visiting Eastern, Central and Western Oregon.
During the site visits, attachés learned about Oregon pears, blueberries, hops, wine, and more. It was also an opportunity for the attachés to develop and strengthen trade relationships, learn about new commodities they may be interested in developing market access for, and to bring back useful ideas for farmers in their own countries.
"It was wonderful to witness firsthand the richness and energy of Oregon agriculture. Pears to potatoes, grapes to grass seed, and much more. From small farms growing and processing their own produce for direct sale to consumers to large-scale dairy and blueberry enterprises, we visited them all," Will Surman, Agriculture, Food and Drink Attaché for the United Kingdom, said. "It was evident that we face many common concerns, such as common biosecurity risks and variable weather patterns. I'm looking forward to building on the connections we formed on the tour."
The foreign attachés who participated in the Oregon tour represented countries that have bilateral agricultural trade with the United States. The tour also allowed the attachés to see the direct impact of USDA work by showcasing climate-smart agriculture practices. The tour participants also were introduced to practices that they could implement in their own countries, such as Oregon's food hubs that help aggregate and distribute locally grown crops.
Oregon was chosen for this year's tour due to its robust and diverse agriculture sector and the popularity of Oregon products both within the United States and around the world. Approximately 80 percent of farm products grown in Oregon depart the state, with almost half of those going to international markets.
Prior to this year's Foreign Attaché Tour, recent tours include Minnesota (2022), Tennessee and Kentucky (2019), Colorado and Nebraska (2018), Texas (cancelled due to Hurricane Harvey in 2017), Montana (2016), Louisiana and Arkansas (2015), and Wisconsin (2014). In 2020 due to the COVID-19 pandemic, FAS pivoted and hosted a virtual Texas Roundtable in lieu of a tour.
Share this: