November 30, 2010 --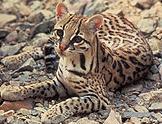 ODA prepares to phase out new permits for exotic animals
No new permits will be issued as of January 2011
By Oregon Department of Agriculture
Ocelots, lemurs, and Fennec foxes are not going extinct in Oregon. But new state exotic animal permits that allow these species to be owned and held by individuals are about to go by way of the dinosaur. As directed by the 2009 State Legislature, no new permits will be issued by the Oregon Department of Agriculture as of January 2011.
"Oregon's exotic animal permit law requires people wanting to own certain species to obtain a permit from ODA," says State Veterinarian Dr. Don Hansen. "However, after the first of the year, the law will prohibit ODA from issuing any new permits. We will continue to renew existing permits to qualified owners, but people only have until January 1, 2011 to apply. Anyone who owns these types of animals needs to be permitted right now. That permit comes with the caveat that they owned these animals through this entire past year but just didn't have them permitted."
The message is clear for anyone involved with exotic animals or contemplating owning one.
Read the full article and discuss it »