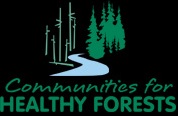 Communities for Healthy Forests
Wildfires are burning hotter and bigger than ever before. It's not a sentiment that's exactly new, we've heard it several times before. But analysis of recent fires across the Western United States is showing scientists that this year's forest fires raised the stakes yet again.
But why are wildfires increasing in size and temperature? And what makes scientists so sure that the trend is poised to continue?
The article Hotter & Bigger, by Rocky Barker of the Idaho Statesman, does an excellent job in explaining the causes and effects of more intense fire seasons. Here are a few of the issues Barker discusses in his exposé:
Climate change is a contributing factor to more intense fire seasons. Warmer winters mean less snow, which melts sooner and decreases runoff.  As a result the forests dry out earlier prompting fire seasons that start earlier and last much longer.