December 31, 2009 --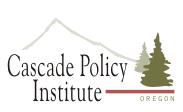 by Karla Kay Edwards
Cascade Policy Institute,
Water is the lifeblood of the Oregon economy. Whether it's the water that turns the turbines to generate clean and cheap energy, acts as the essential nutrient for agricultural commodities, or provides a multitude of recreational opportunities and environmental essentials, water is needed for every aspect of our lives and economy. Yet, Oregon continues to pass bills like HB 3369, which allowed one storage project to move forward while creating huge hurdles for any new proposed projects to clear. This can lead to the stifling of opportunities to store water at favorable times and create efficiencies within various water uses.
Read the full article and discuss it »