August 31, 2015 --
By Rick Sohn, PhD
Umqua Coquille LLC
Like last winter, extreme weather has hit again, this time in the form of a hot weather and serious localized forest fires. Markets and demand for wood products are continuing to improve. Trends of lumber, home construction, and housing markets, are compared to 2006.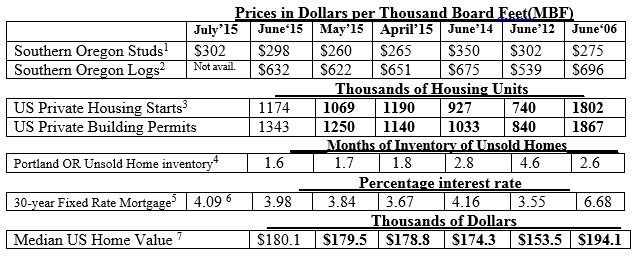 Interpretation and Looking Ahead.
As I write this letter, various bombers and helicopters are flying overhead carrying water to fight human-caused wildfires in Douglas County, Oregon. Yesterday was the hottest day in Roseburg, Oregon, in 69 years, at 108 degrees. Apparently, it was 109 degrees once, in July 1946. The fires yesterday matched the temperature. The Cable Crossing fire, reached 830 acres. The Stouts fire, behaving more like an Eastern Oregon brush fire, grew to 6,000 acres on its first day. Plumes of smoke rose several miles into the air. While the forest firefighting agencies do heroic work, it's difficult to fight temperatures in triple digits, winds in double digits, and humidities as low as single digits.
Read the full article and discuss it »